Ashay and His Friends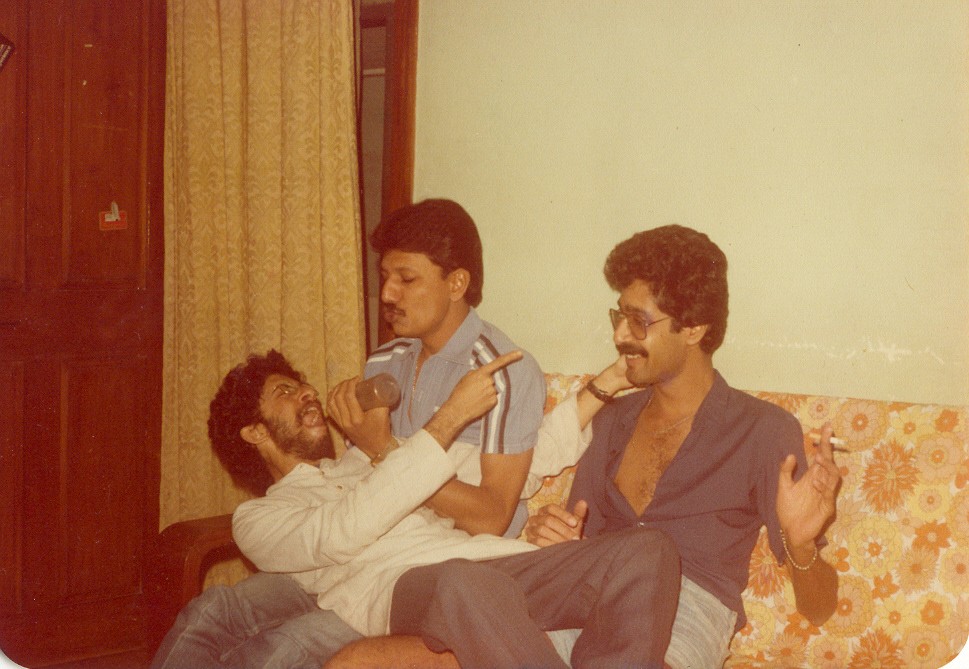 Ashay with Sanjay Jadhav (making him drink) and Sanjay Gupte ( the much amused onlooker to their right) :
Sanjay Jadhav was Ashay's closest friend till the very end. Ashay was an only child with no sibling. He met Sanjay Jadhav through my first cousin, Sanjay Gupte. ( All my younger cousins in our grand extended family who were closer in age to Ashay than to me were his buddies and not 'uncles' and 'aunts'). Sanjay Jadhav is a cop. When he met Ashay, he was at the Azad Maidan Police Station in Mumbai, right next to the St.Xavier's College where the Xavier Institute of Mass Communication is located. From the Xavier Institute, where Ashay was doing his diploma in film, television, and broadcasting, he would go across to Sanju and spend hours at his police station. Often, Ashay would be with Sanju through the night routine of a police station. This made him aware of crime in Mumbai as well as the life of the underclass.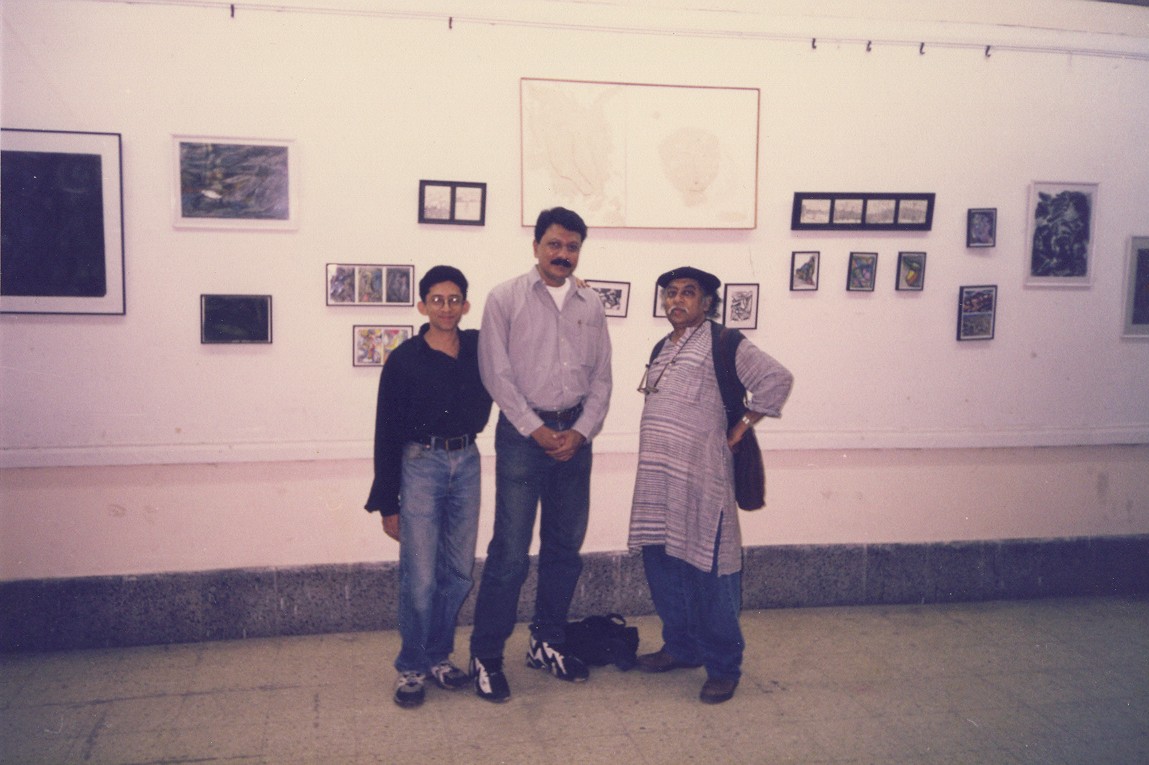 Ashay (left), me (right), and Sanjay Jadhav (centre) at a group show of art by my young colleagues in 'Friends of the Visual Arts'. This special group show was a 60th birthday 'present' to me. Ashay---who was a gifted and original painter since his childhood---was an active member of the group. Sanju was a very, very special visitor to this birthday event. He was, after all, 'our elder son' who treated Ashay as his favourite kid brother.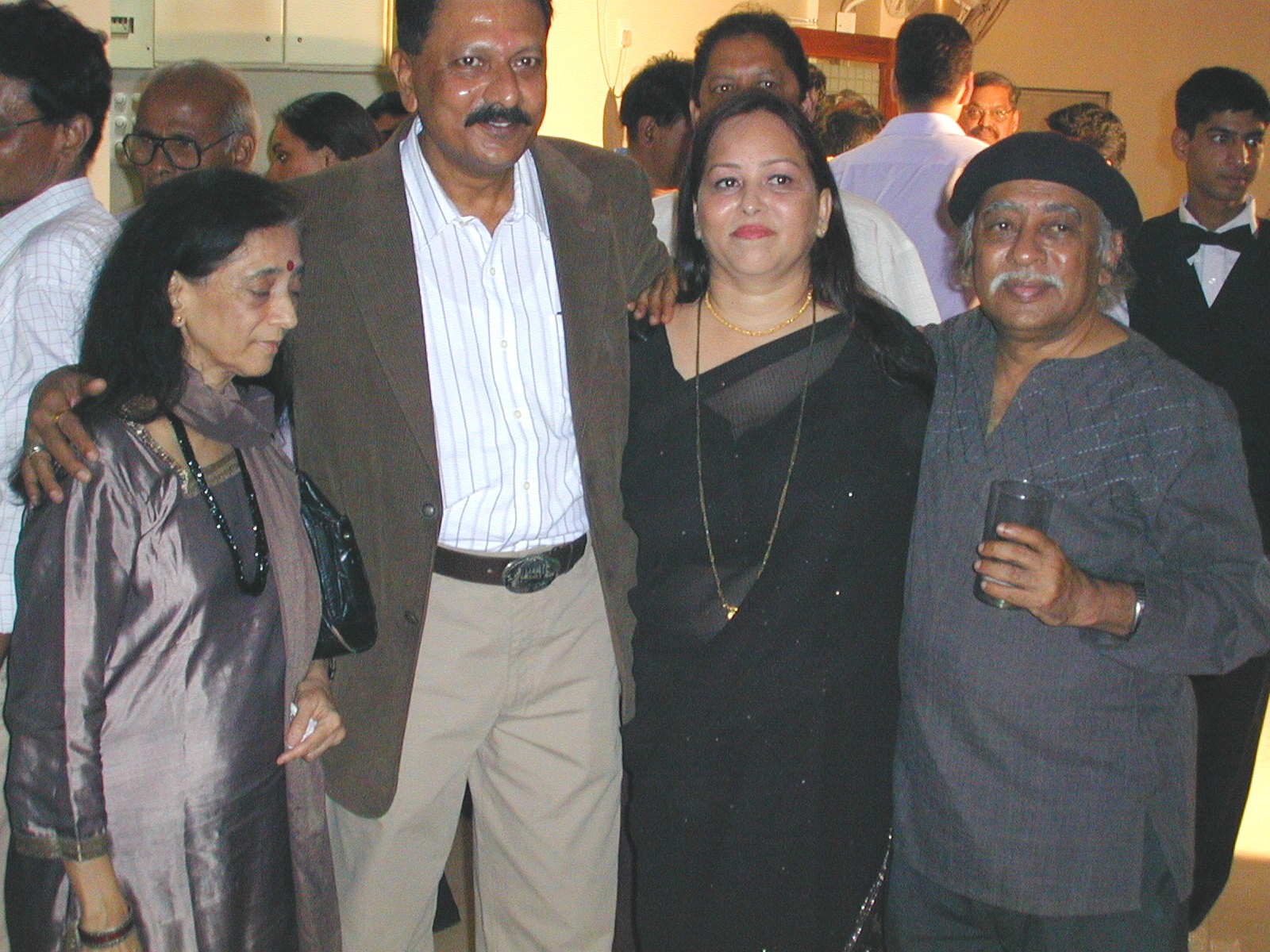 Viju (extreme left), Sanjay, his wife Rita, and me (extreme right) at a party organized by their daughter 'Chinky' alias Shveta to celebrate Sanjay's 50th birthday and Sanjay and Rita's Silver Wedding this year (2004). Several of Sanjay's friends knew Ashay and vice versa. Ashay was no more then and he was missed so much that we felt his absence transformed into an invisible presence. If Ashay were there, he would be the busiest and the least obtrusive photographer at the party, and the one with the richest haul of memorable images, stealing characteristic and unique expressions from those present.
Home
Ashay in Iowa
Us
Anniversary
Ashay in Cinema
Poetry Corner